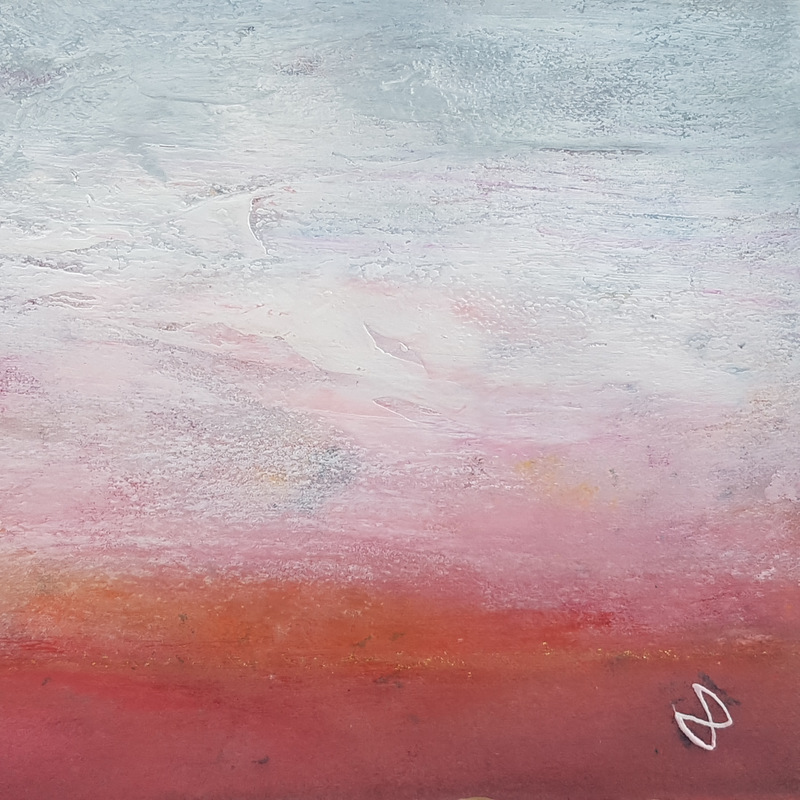 On the 10th November 2020 I woke up and watched the dawn unfold outside my bedroom window. Some notion took me to write down a colour description of what I saw. In three lines, written from the bottom up, just as I look to the sky - horizon first then up and up! I have surprised myself as this has become a delightful morning routine. Not a day missed.
A little like a haiku but not a haiku. Limiting myself to three lines and 17 characters means I am compelled to be succinct using words imbued with meaning, inspiration, feelings, memories. I have come to see this writing as part of my visual research. Planning towards a new body of work : abstract skyscapes at the crack of dawn -
Daybreak
. These are my morning koans.
koan
n.
a paradoxical anecdote, sometimes like a riddle other times like a fable, which when meditated upon is used in Zen Buddhism to provoke reflection on the inadequacy of logical reasoning and to lead to enlightenment.
Some mornings, if I happen to doze off and wake again, I write more than one!
April 2021
30
colours linger        
moments unfold       
pastel notes        
aquamarine
pale orange
dusky pink
29
float on azure
peach mauve
coral pink
28
limestone
pearly light
milk quartz
27
peaceful serene
bruised on fire
battleground
26
blazing chevron              
molten peach       
lavender blue      
converge on fire  
long narrow cloud
jet stream  
25
almost colourless     
blanched out       
light intensity       
just an inkling
a tincture
lemon yellow
24
veiled in grey
blue blaze
faint peach
23
twiggy filter
lemonlight halo
gleaming orb
22
mingling
lilac blue
infant pink
21
to white
abraded worn
palest blue grey
20
no hint of hue
grey white
soft light
19
moonstone blue
mother of pearl
oyster shell pink
18
swiftly drifting
cloud light blinks
sombre mantle
17
jet scores a line        
soft grey solitude      
galia melon        
scream stream
serenity stillness
yellow grey dawn
16
spun sugar
powder blue
apricot glow
15
wise old grey
tawny owl
mushroom pink
14
brightness         
clearing            
misty greys         
fresh palette
begin anew
clarity
13
to break out        
straining          
wild thing snared      
and beyond
blazing through
sunlight flares
12
a few birds
only grey
nothing to say
11
threadbare blue
shabby white
faint lemon
10
sugar dusting
iced glaze
golden syrup
9
thassos
calacatta
cararra
8
feathered whites
downy greys
tangerine smiles
7
sugared rim
lemon ice
whiskey
6
almost white        
duck egg           
floating peach         
purple thunder
darkens like
lichen green
5
icecream soda
meyer lemon
bitter orange
4
ashen
bleached
blush
3
wedgewood                  
belleek            
apricot glaze        
cornflower velvet
golden rim
gibbous pearl
2
clockwise drift
brigtens in time
dense ash
1
a cloud mirage
aloft and alone
powder blue grey